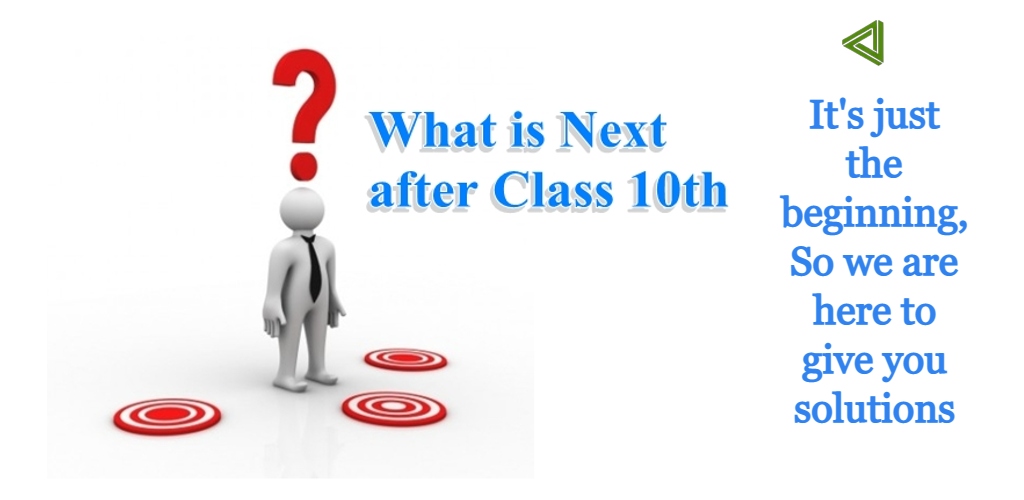 After completing the 10th grade, students have several options for further education and career planning. The choice of courses and career paths depends on their interests, goals, and academic performance.
Choosing the right course after the 10th standard is a crucial decision that can significantly impact your future career and personal satisfaction.
Here are some steps to help you make an informed choice:
1. Self-Reflection:
Start by assessing your interests, strengths, and weaknesses. What subjects do you enjoy the most? What are your hobbies and passions? Reflect on what makes you happy and motivated.
2. Set Clear Goals:
Define your career goals and aspirations. Think about what you want to achieve in the long term. Having a clear sense of your goals can help you choose a course that aligns with your ambitions.
3. Research Career Options:
Explore various career options that interest you. Look into the job market, salary prospects, and demand for professionals in those fields. Consider factors like job stability and growth opportunities.
4. Talk to Career Counselors:
Seek guidance from school counselors or career advisors. They can provide valuable insights and help you understand your options better.
5. Consult with Family and Mentors:
Discuss your thoughts and aspirations with your parents, teachers, or mentors. They may offer valuable advice and perspective based on their experiences.
6. Consider Your Academic Performance:
Take into account your academic performance in subjects relevant to the courses you're considering. Some courses may have specific eligibility criteria or require a strong foundation in certain subjects.
7. Explore Course Curricula:
Research the syllabus and course content for the programs you're interested in. See if the subjects and topics align with your interests and career goals.
8. Attend Career Guidance Workshops:
Participate in workshops or seminars that provide information about various career paths and educational opportunities.
9. Visit Institutes and Colleges:
If possible, visit colleges or institutes that offer the courses you're considering. This can give you a feel for the campus environment and help you make an informed decision.
10. Consider Practical Factors:
Think about practical factors such as the duration of the course, location of educational institutions, cost of education, and availability of scholarships or financial aid.
11. Assess Future Trends:
Investigate emerging trends and technologies in different industries. Some fields evolve rapidly, and it's important to choose a course that remains relevant in the future job market.
12. Seek Feedback from Alumni:
Connect with alumni of the courses you're interested in. They can share their experiences and insights about the program and its outcomes.
13. Take Online Career Assessment Tests:
There are online career assessment tests that can help identify your strengths and suggest suitable career paths based on your personality and interests.
14. Trust Your Instincts:
Ultimately, trust your intuition and gut feeling. Your happiness and passion for the chosen field are crucial for long-term success and satisfaction.
Remember that choosing a course after the 10th standard is not a one-size-fits-all decision. It should be based on your unique interests, goals, and circumstances. Take your time, do thorough research, and consult with others to make an informed choice that aligns with your future aspirations.
Here are some of the common options:
1. Higher Secondary Education (10+2):
Pursuing higher secondary education by enrolling in a 10+2 program (typically two years) is a common choice. This can be in the form of various streams:
Science: If you are interested in subjects like physics, chemistry, biology, or mathematics, you can opt for the science stream.
Commerce: If you have an interest in subjects like economics, business studies, and accounting, you can choose the commerce stream.
Arts/Humanities: If you have a passion for subjects like history, geography, literature, or psychology, you can go for the arts/humanities stream.
2. Diploma Courses:
There are numerous diploma courses available in fields like engineering, computer science, hospitality, fashion design, etc. These typically have a duration of 1 to 3 years.
3. Vocational Courses:
Vocational courses provide practical skills and can be a good choice if you want to enter the workforce early. Examples include plumbing, electrical work, automotive repair, and more.
4. ITI (Industrial Training Institute):
ITI courses are skill-based programs that offer training in various trades and can lead to jobs in industries.
5. Skill Development Programs:
Various government and private organizations offer skill development programs and short-term courses in areas like digital marketing, web development, graphic design, and more.
6. Preparation for Competitive Exams:
If you have a specific career goal that requires passing an entrance exam, you can begin preparing for these exams after the 10th grade. This includes exams for engineering, medical, law, and more.
7. Artistic and Creative Fields:
If you have a talent or passion for arts, music, dance, or any other creative field, you can consider pursuing courses or training in these areas.
8. Entrepreneurship:
If you have a business idea or entrepreneurial spirit, you can start working on it, even at a young age. Consider attending workshops or courses related to entrepreneurship and business management.
9. Online Courses:
There is a wealth of online courses available on platforms like Coursera, edX, Udemy, and Khan Academy. You can explore subjects of interest or acquire new skills through these platforms.
10. Coaching for Competitive Exams:
If you have a specific career goal that involves competitive exams like JEE (for engineering) or NEET (for medical), you can join coaching classes to prepare for these exams.
It's crucial to consider your interests, strengths, and long-term goals when choosing a course of study after the 10th grade. Talk to teachers, career counselors, and family members to get guidance and make an informed decision. Your choice at this stage can significantly impact your future career path, so take your time and choose wisely.
Here are few known course list are provided below:
Polytechnic Courses
Diploma in Computer Programming
Graduate Certificate in Marketing Management
Diploma in Petroleum Engineering
Diploma in Business Administration
Diploma in Animation, Art & Design
Diploma in Hospitality Management
Diploma in Accounting
Diploma of Early Childhood Education & Care
Medical & Paramedical Courses
Diploma in Hospital Assistance
Diploma in Rural Healthcare
Pathology Lab Technician
Diploma in Paramedic Nursing
Certificate of Nursing Assistants
Diploma in Physiotherapy
Diploma in X-Ray Technology
Diploma in ECG Technology
Diploma in Radiology
Diploma in Dental Mechanics
Diploma in Pharmacy
IT and Computer Technology
Diploma in Computer Application
Certificate in Social Media Management
Diploma in Hardware Maintenance
Certificate Course in Search Engine Marketing
Computer Technician Diploma
Certificate in Search Engine Optimization
Certificate in Graphic/Web Designing
Certificate Course in Programming Language
Engineering
Diploma in Engineering
Diploma in Electrical Engineering
Diploma in Instrumentation Technology
Diploma in Mechanical Engineering
Diploma in Food Technology
Diploma in Computer Science and Engineering
Diploma in Civil Engineering
Diploma in Aeronautical Engineering
Diploma in Architectural Assistantship
Diploma in Mechatronics
Diploma in Rubber Technology
ITI Courses
Electrician
Radiology Technician
Insurance Agent
Digital Photographer
Fashion Design & Technology,
Sewing Technology
Tool and Die Making
Computer Operator and Programming Artists
Travel and Tourism
Diploma in Business Management
Diploma in Food Technology
Diploma in Food and Beverage Production
Diploma in Hotel Stores Management
Diploma in Hospitality Management
Diploma in Front Office and Reception Management
Certificate & Diploma Courses After 10th
Certificate in Animation
Certificate Course in Functional/Spoken English
Certification in Mobile Repairing course
Diploma in Commercial Practice
Diploma in Cosmetology
Diploma in Stenography
Diploma in Leather Technology
Diploma in Mechanical Engineering
Diploma in 3D Animation
List of Government Job form after completing 10th / Matric
There are several government job opportunities available for individuals who have completed the 10th standard. These jobs are typically in various government departments and organizations at different levels. Here is a list of some government job options after completing the 10th grade:
1. Multi-Tasking Staff (MTS) :
MTS is a common entry-level government job that involves performing various tasks such as office maintenance, cleaning, and support roles in government offices.
2. Postal Service Jobs:
Positions like Postman and Mail Guard are available in the postal department. These roles involve delivering mail and performing related duties.
3. Constable:
Various state police departments and paramilitary forces recruit candidates for the position of constable. This job involves maintaining law and order.
4. Forest Guard:
Forest departments in different states hire forest guards to protect and manage forest areas.
5. Peon/Chaparasi:
Many government offices and institutions hire peons or chaparasi for office maintenance and support roles.
6. Tradesman/Mate:
Positions in the military, such as tradesman or mate, are available for 10th pass candidates. These jobs involve technical and support roles.
7. Sweeper/Cleaner:
Government hospitals and offices often hire sweepers and cleaners for maintaining cleanliness.
8. Home Guard:
Home guard volunteers assist the police in maintaining law and order during emergencies.
9. Driver:
Government departments, including state transport corporations, recruit drivers for various vehicles.
10. Junior Assistant/Typist:
Some government departments hire junior assistants or typists to perform clerical and data entry tasks.
11. Cook/Chef:
In government institutions like schools, hospitals, and defense establishments, cooks are employed to prepare meals.
12. Mechanic:
Some government organizations hire mechanics to maintain and repair machinery and vehicles.
13. Security Guard:
Various government buildings and institutions hire security guards to ensure the safety and security of the premises.
14. Attendant/Nurse Helper:
Government hospitals may have job openings for attendants or nurse helpers to assist medical staff.
15. Laboratory Attendant:
In government schools and institutions, laboratory attendants help in setting up and maintaining science labs.
16. Library Attendant:
Government libraries may hire library attendants to assist with bookkeeping and maintenance.
17. Fitter/Turner/Welder:
Technical positions in government workshops or industrial training institutes may be available for candidates with technical skills.
18. Watchman:
Vacancies for watchmen or security personnel can be found in government buildings and institutions.
19. Agriculture Worker:
In rural areas, government agriculture departments may hire workers for agricultural activities.
20. Assistant Grade Jobs:
Some government departments offer assistant grade positions that involve administrative tasks.
Please note that job availability and eligibility criteria may vary by state and organization. It's essential to check with the specific government department or agency for detailed information on job openings, application procedures, and eligibility requirements. Additionally, government job notifications are regularly published in newspapers and on official websites, so staying updated is crucial for job seekers.